It comes with 3.7V 1200mA battery. It supports key search frequency, the 40 port automatic search real-time video return 5.8G FPV receiver.
This FPV Goggles is designed with a ips monitor, which helps you to monitor your data and make it easier for you to read.
This goggles features small size, light weight and low power consumption. It come with the dual antenna which make the signal more stable. Built-in  5.8GHz 40ch receiver which is very sensitive. It is very suitable for travel and outdoor activities. it can be used as a gift to your friends or family members.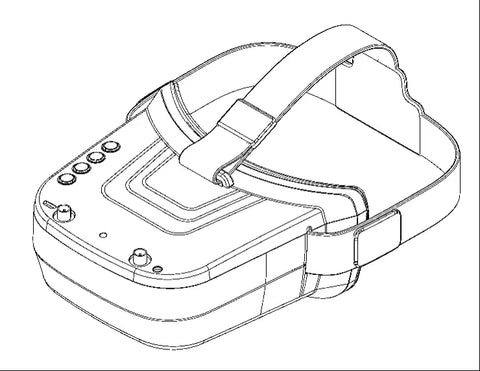 Specifications: 
LCD Screen Screen size: 3.0 Inch
Resolution: 480*320
Display Ratio: 16:9
View Angle: 6 o'clock
Brightness: 500cd/m with high brightness backlight LED
Video delay Video time-delay less than 20ms
Lens 4X Fresnel Lens, 92% transparent rate no distort of light
Interface Antenna: 2 X RP-SMA male
USB: To charge the battery
AV Jack: External video signals input or internals AV signal output
Languages English and Chinese
Power Supply Power adapter: DC5V/1A (USB interface)
Battery: 3.7V/1200mAh,Each full charge revive around 2.5hr working time
Power Consumption:
*The device operating current of 300~330mA at 3.7~4.2V;
*Built-in battery maximum charge current of 500mA;
Body
Dimension: 13.5cm * 13.2cm * 6.5cm
Weight: 180g(with headband, not included antennas)
Button Instructions:
①:Menu mode(Short press ),Turn on/off (Press for more than 3 seconds)
②:Short press to automatically search(Automatically search for the channel with the strongest signal)
③: Short press to change band(A-B-E-F-R)
④:Short press to change  channels(1-2-3-4-5-6-7-8)
⑤:Eye socket(Eye protection for more comfortable wearing)
⑥:Micro USB charging port(Only support DC5V)
⑦:Antenna port A:RP-SMA
⑧: Charging indicator(The red light is on when charging, and the light is off when fully charged)
⑨:Antenna port B: RP-SMA  
⑩:AV jack