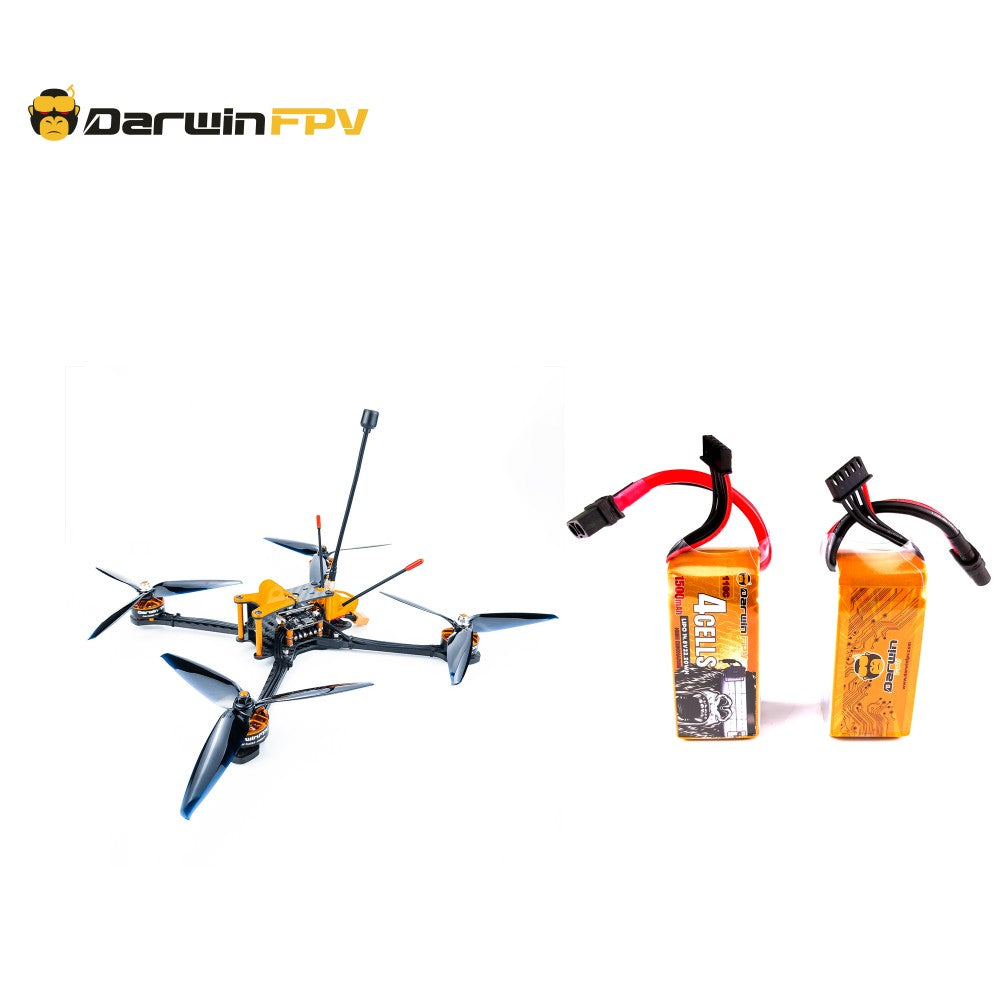 Darwin 129 7" Long Range PNP
Battery:
1 PCS 4S1500mAh 14.8V 110C Battery
Propeller:
1 Pack 7040 Propeller
Darwin129 7'' Long Range PNP is a 7'' quadcopter for long rang. 
After many attempts and experiments, we have  upgrated Darwin129.  
For example, GPS is changed to M80, the speed of searching is faster 
and the accuracy is higher, the tail buzzer and 8 high-
brightness RGB lights make it is more easier to locate 

the drone and so on.
The motor cable has been changed to silicone cable with sufficient and it won't melt during soldering.
Add battery pad to prevent effectively the battery from slipping off.
The VTX antenna is specially designed for long-rang flight, so the transmission distance is much longer.
The flight controller supports bluetooth function and can be connect to the mobile phone APP quickly. Make drone tuning much more convenient.
VTX transmission power is increased to 800mW, the transmission distance is more longer.
The flight controller is installed with silicone dampers, it will reduce effectively the flight controller vibration.
 Specification
Item name: Darwin129 7'' Long Range PNP
Wheelbase: 280mm
Flight Controller: F4 flight controller
Gemfan Flash 7040-3
Flash Durable 3 Blade
7040-Clear 2L2R
Camera upgraded to 1500TVL Darwin B19
Comes without battery,charger,receiver and remote controller.
2507  1800KV 3-5S Brushless Motor
Motor KV: 1800KV
Idle Current (Io/10V): 0.89A
Lipo Cell:3-5S
Weight: 39g
Max Continuous Current: 42 A
Max Continuous Power: 840 W
Max thrust: 1488 g(4 S/7")
Configu-ration: 12 N/14 P
Motor Resistance (RM):0.0586 Ω
Stator Diameter: 25 mm
Stator Thickness: 7 mm
Motor Diameter: 30.8 mm
Motor Body Length: 20 mm
Overall Shaft Length: 35 mm
Prop adapter shaft: M 5
Bolt holes spacing:16 mm
Bolt thread:M 3
Propeller:7"
4In1 50A Blheli_S ESC
Continuous current: 50 A
Peak current: 60 A (10 S)
Lithium battery section number: 3-5 S
BEC: 5 V 2 A
ESC weight: 10.8 g
Firmware: BL_S
Maximum support throttle signal: DSHOT 600
Mounting hole: M3 30.5 * 30.5 mm
F4 Flight Controller
Lithium battery section number: 3-5 S
BEC: 10V 1A, 4.5V, 3.3V
IMU: MPU6500 (SPI)
MCU: STM32F405
OSD: AT7456E
Firmware: MATEKF405
Weight: 7.2g
Mounting hole: M3 30.5 * 30.5mm
Support  black box
Bluetooth 
5.8G40CH 800mw VTX TX805
Item name: FPV Transmitter VTX
Frequency: 5.8G Channels: 40CH
Input voltage: 7V~24V
5V camera supply: 120mA(MAX)----25mW@12V 5V
camera supply: 200mA(MAX)----200mW@12V 5V
camera supply: 300mA(MAX)----600mW@12V 5V
camera supply: 350mA(MAX)----800mW@12V Extra
features: Smart audio
Power supply: 5V output for Camera
Output power: 25mW/200mW/600mW/800mW
switchable Antenna connector: MMCX
Cable connector: Solder pads
Dimensions: 36mm*22mm*5mm,30.5 stackable hole
Weight: 8g(excluding antenna)
Darwin M80 GPS
Name: GPS+GLONASS
Power Supply:5V
Botelv: 115200dps
Receiver Sensitivity:Tracking -167dBm Capture -160dBm

About the Battery shipping: Because the battery needs to be shipped through a specific shipping channel, if you purchased the battery and other products at the same time, we may split the order into two packages and ship through two channels (no additional shipping charges, only possible arrival time is different).
Package
1x Darwin129 7'' Long Range PNP