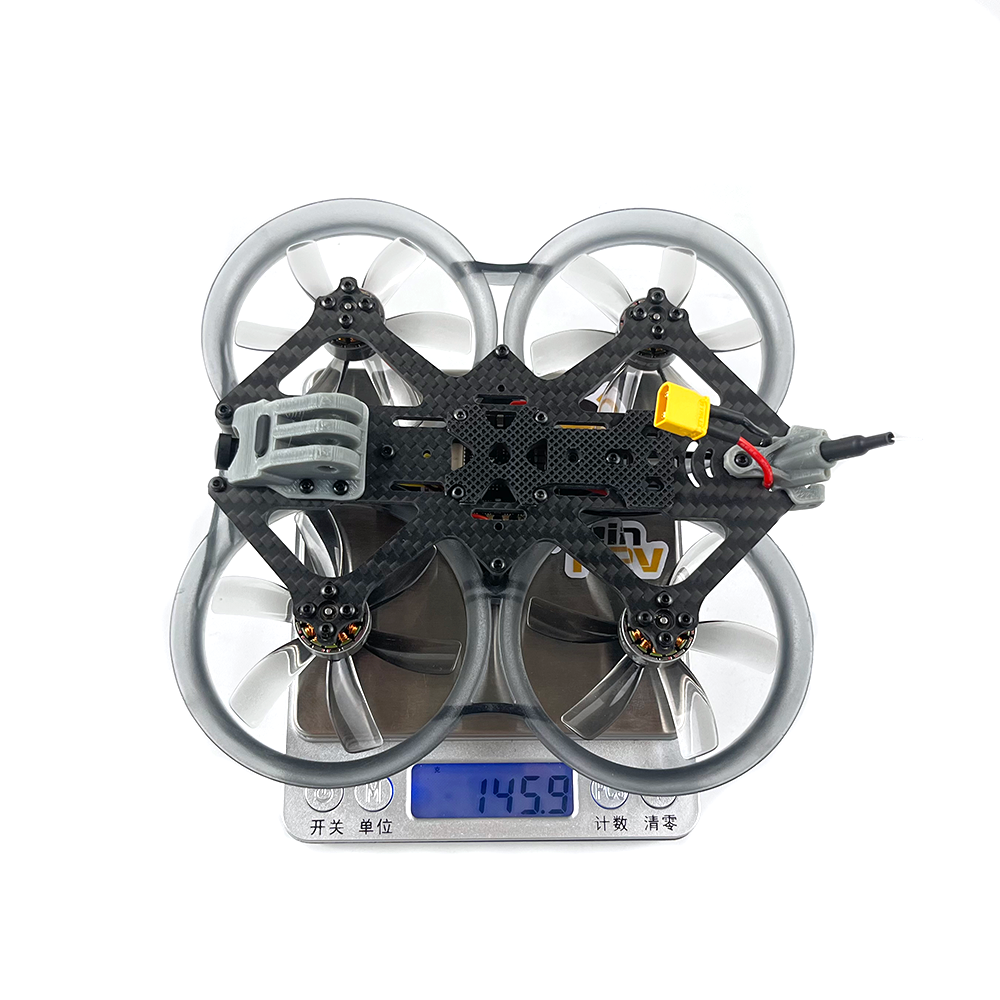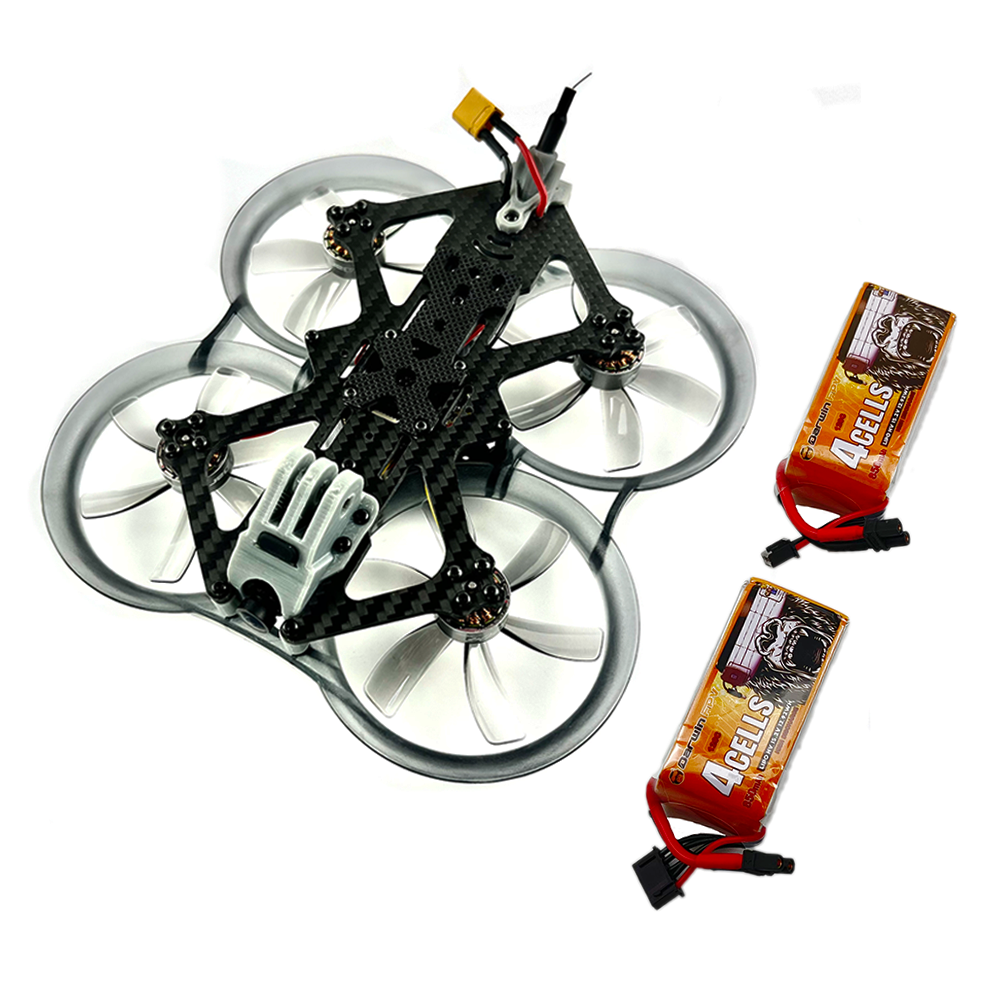 DarwinFPV CineApe 25 Cinematic Whoop FPV Drone
Version:
CineApe 25 Analog
Battery and Propeller:
4S 850mAh Battery 2PCS
CineApe25 is DarwinFPV's first cinematic whoop FPV drone. The frame is composed of upper and lower carbon plates and a high-strength injection guard, which is very strong and crash-resistant and easy to disassemble. The motor adopts 1504-3600KV long-life motor; we abandoned the traditional AIO solution and adopted the split design of F4+30A stack to reduce the maintenance cost in the future. The accessories adopt mature and stable solutions to maximize the durability and reliability of the drone.
CineApe25 is a very cost-effective whoop FPV drone. It not only solves the worries of beginners about the high risk factors and high threshold of assembly, but also improves the after-sales experience. If you are still struggling with which FPV drone to buy, DarwinFPV CineApe25 may be your best choice!
If you want to buy more or worried about the drone being damaged due to improper handling, we also provide CineApe Card for you to choose:With this card you can have 2 times to get 25% discount code on the CineApe 25 drone. No matter what problems of your drone (wrong solder, drone blow up, drone lost, out of contact or whatever) and you only need to pay 75% of the cost to have a new one, which can be used twice within 1 year. 
Features

:

 
Comes with high-strength one-piece injection-molded propeller guard, which has higher safety, stronger and more durable frame, also reduce the probability of risk, so you have more confidence to fly.
The new ducted aerodynamic design greatly optimizes power efficiency, and with the 1504-3600KV long-endurance motor, the CineApe 25 has a battery life of up to 9mins.
Compared with traditional stacks, we have treated the CineApe 25 stack with glue to protect it, which greatly reduces the risk of damage to the stack due to contact with metal particles, fine sand and gravel, weeds or dewdrops, etc.
The external Type-C parameter adjustment port is convenient for parameter adjustment.

It comes with quick-release design only needs to remove 7 screws to separate the top plate and the injection molding guard, which can easily deal with the scene in which accessories need to be replaced urgently.
The stack has built-in SD card slot and reserves rich interfaces resource, which is facilitate upgrade and DIY in the future.
There are optional versions and HD VTX solutions can be provided. 
Which one is better, CineApe 25 HD Walksnail AVATAR MINI or CineApe 25 Runcam Link Wasp Nano (HD) ?
CineApe 25 Runcam Link Wasp Nano(HD):
Runcam Wasp Nano VTX comes with 1080P/120FPS, providing a clear flight angle and high-quality video images. Compatible with DJI FPV goggles, the brightness and saturation can be adjusted according to different scenes to meet your expectations for any image effect. Equipped with eight 5.8GHz communication channels, allowing 8 FPV drones to fly at the same time, the pilot has his own exclusive channel, and the channels do not interfere with each other, bringing you an excellent flying experience.
CineApe 25 HD Walksnail AVATAR MINI:
The AVATAR MINI 1S VTX has an ultra-low latency of 22ms and can record video at 1080P/60FPS or 720P/120FPS. It also has an 8 GB built-in storage space that can record 1080P high-definition video, eliminating the need to install an additional action camera, and can record and export high-definition video of any capacity via a USB data cable. It only weighs 6.8g, which improves flight performance significantly.
Specifications:
Brand: DarwinFPV
Model: CineApe 25 Cinematic FPV Drone
Frame Structure: True -X
Wheelbase: 112mm
Dimension: 160mm x 160mm x 43mm
Flight Controller: F411 MPU6500 AT7456E
Reserved Connector: 1x SBUS(RX1 inverter) 2x Uarts(1,2) 2x Softserial 1x I2C 1x RGB 1x Buzzer 1x USER(A15) 1x USB
ESC: BlueJay 3-4S 30A
Camera and VTX Option:
Analog Version : CADDX ANT Analog CAM + 600mW Analog VTX
HD Version : CADDX WALKSNAIL AVATAR MINI 1S
                       RunCam Falcon Nano
Motor: 1504-3600KV
Propeller: HQProp T63MMX6
Recommend Battery: LiPo 4S 850mAh
Hovering Time: 9mins (4S 850mAh Battery)
Weight: 144g (Without Battery)
Weight: 238g (With 4S 850mAh Lipo Battery)
Weight: 250g (With 4S 850mAh Lipo Battery + RunCam THUMB Camera)
Weight: 311g (With 4S 850mAh Lipo Battery + 4K NANO1 Actino Camera)

Receiver Support:
Frsky XM/XM+/R-XSR
Futaba Receiver
DSM/DSMX
FlySky Receiver
TBS Crossfire Receiver
AC900
It supports most protocols receiver on the market , such as PPM/PWM/IBUS/SBUS/SPEKTRUM/CRSF of ELRS. 
In The Box:
1 x CineApe 25 Cinematic FPV Drone
4 x HQProp T63MMX6 propeller (2L2R)
2 x battery strap 10x170mm
1 x EVA crashproof foam
1 x EVA bottom plate shock absorbing pad
1 x Spare Screw Kit
1 x Sticker
1 x Manual