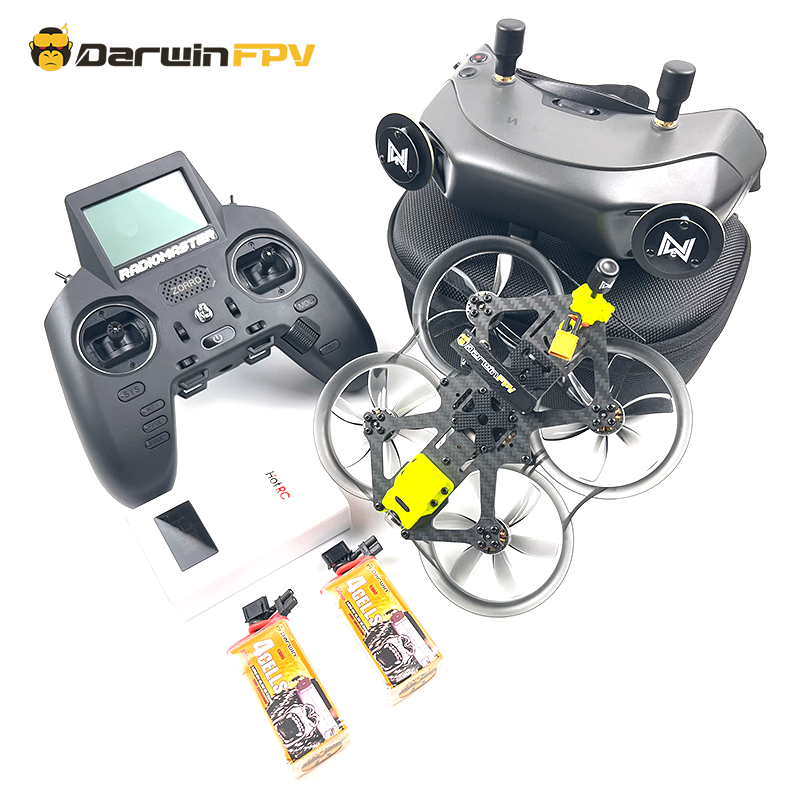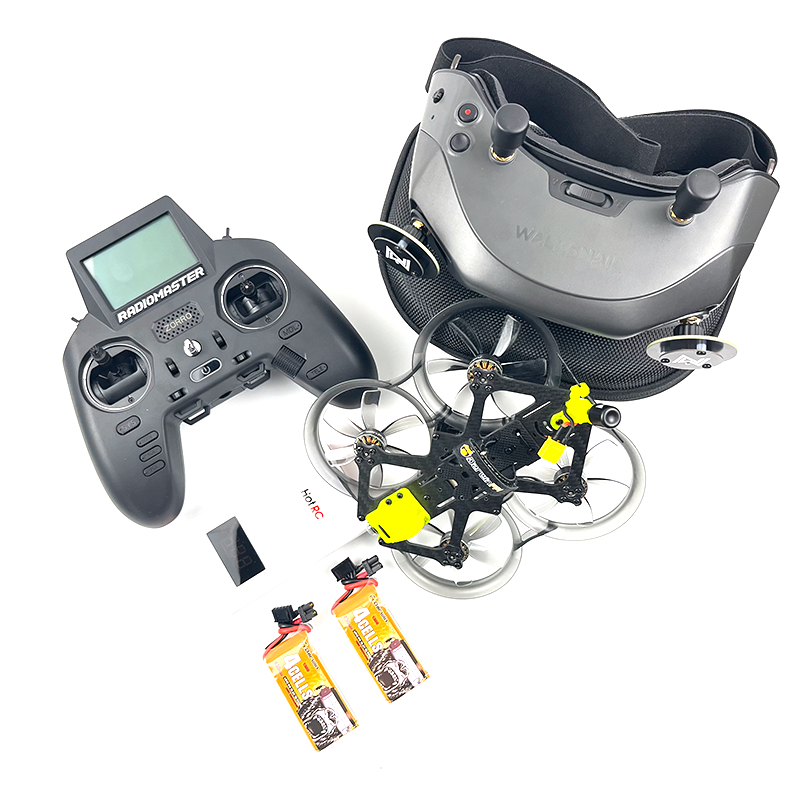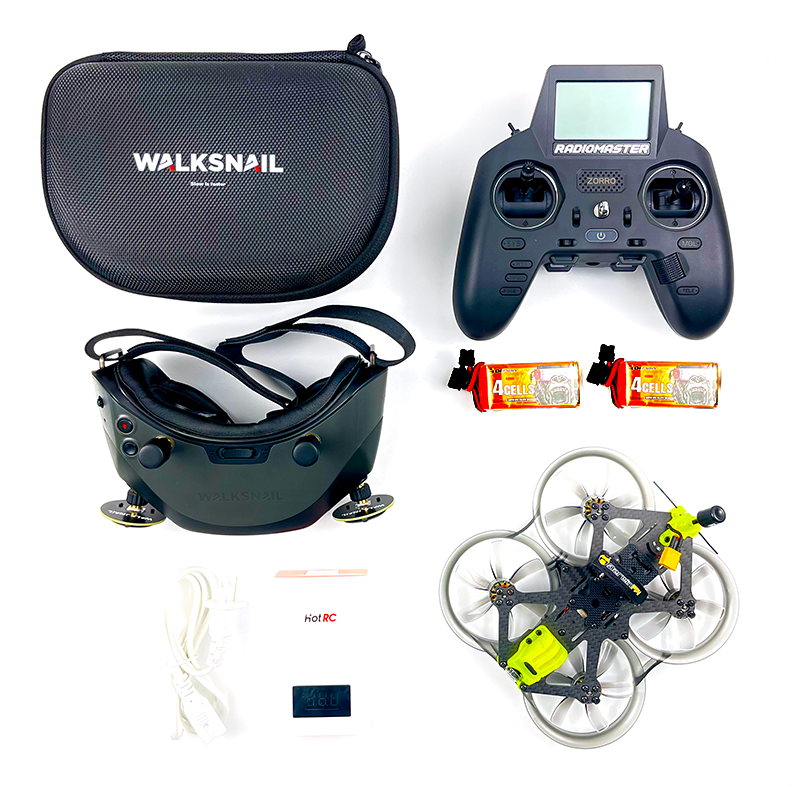 DarwinFPV CineApe25 Walksnail AVATAR FPV HD RTF
Style:
CineApe25 Walksnail AVATAR FPV HD RTF
The CineApe25 RTF is the best drone for beginners to use when learning FPV. The CineApe25 Walksnail AVATAR FPV HD RTF comes with everything you need, including the 4S 850mAh battery and charger, Walksnail Avatar HD goggles, Radiomaster Zorro ELRS radio controller, and CineApe25 Walksnail AVATAR FPV Drone, allowing both novice and expert FPV pilots to practice both indoors and outdoors. The CineApe25 Walksnail AVATAR FPV HD RTF has a Walksnail digital high-definition system in comparison to the CineApe25 Analog RTF, giving you superior visual effects and a better flying experience.
Features: 
Adopting a high-strength one-piece injection-molded propeller guard and the frame is strong and resistant to explosions, with excellent impact resistance in drops and impacts.Everyone can fly because of the high safety factor, which ensures safe indoor and outdoor flying.
The new ducted aerodynamic structure allows the quadcopter to generate so much lift, which improves endurance and propulsion.
A Walksnail Avatar HD Kit is included. offers recording in 1080P with an extremely low latency of 22 ms. Built-in 8GB storage makes it easy to record videos and export them using a USB data cable. Canvas mode on the Avatar VTX supports the complete OSD display for Betaflight. Lightweight and small, Avatar glasses have a 46° wide-angle field of vision. It provides a more immersive FPV experience while being more comfortable to wear.

It comes with a large LCD screen on top that can be employed in wide range of situations, a Radiomaster Zorro ELRS Radio Controller, and it supports the OPENTX/EDGETX open-source operating system.
Specifications:
Model: CineApe 25 Walksnail AVATAR FPV HD RTF
Wheelbase: 112mm
Dimension: 160mm x 160mm x 43mm
Flight Controller: F411 MPU6500 AT7456E
Reserved Connector: 1x SBUS(RX1 inverter) 2x Uarts(1,2) 2x Softserial 1x I2C 1x RGB 1x Buzzer 1x USER(A15) 1x USB
ESC: BlueJay 3-4S 30A
Camera and VTX Option:Walksnail Avatar Digital HD System
Motor: 1504-3600KV
Propeller: HQProp T63MMX6
Recommend Battery: LiPo 4S 850mAh
Hovering Time: 9mins(4S 850mAh Battery)
Quadcopter: CineApe 25 Walksnail AVATAR FPV Drone
Transmitter: Radiomaster Zorro ELRS Radio Controller
Goggles: Walksnail Avatar HD goggles
Battery: 2* DarwinFPV 4S 850mAh 15.2V Brushless Battery
Walksnail Avatar Digital HD System
The Walksnail Avatar HD goggles feature a high-definition OLED display with a 1080p resolution and accept the new 1080p video transmission protocol. The 46° FOV, light, and small Avatar goggles are available (field of view). Support HDMI output so that you can view the real - time flight picture on the display. The construction of four antennas also ensures the stability of the signal used for image transmission.
It is outfitted with the Avatar HD system, which uses the industry-leading H.265 high-efficiency video coding technology to provide 1080P/720P image recording with an ultra-low delay of 22 milliseconds. The Avatar VTX has 8 GB of built-in storage and can record and export HD video regardless of capacity via a USB cable. Furthermore, the Avatar VTX's canvas mode supports Betaflight full OSD display and can be easily adjusted via the transmitter.
Radiomaster Zorro ELRS Radio Controller
You will get the best watching experience possible thanks to its big LCD display. supports the open-source operating systems EDGETX and OpenTX. It has a replaceable 18350 battery with a 300-minute battery life, is powered by an external 2S battery, and can be charged through USB-C. TBS and ELRS are supported by an external module.
The frame
The CineApe 25 frame consists of upper and lower layers of carbon plates and high-strength injection molded guard, which have a higher safety factor, more stable flight, and no fear of damage. Just remove 7 screws to separate the top plate and the injection-molded protective circles, making it easy to deal with the scene where accessories need to be replaced urgently.
FC & ESC
Stack adopts glue-filled protective design, hich significantly increases dependability and longevity, which significantly increases dependability and longevity. The risk of the stack being harmed by metal shards, tiny sand or gravel, weeds, or dew is significantly decreased. Built-in barometer and SD card slot, which hold a wealth of resources and make it simple to do DIY updates in the future.
The HQProp T63MMX6 propeller was created specifically for inverted flight, giving the pilot a pleasant flight! It is stronger and more durable. It offers pilots an unique flying experience because to its 1504-3600KV long-endurance motors.
Package
1 * CineApe 25 Walksnail AVATAR FPV Drone                           
1 * Radiomaster Zorro ELRS Radio Controller                      
1 * Walksnail Avatar HD goggles   
2 * DarwinFPV 4S 850mAh 15.2V Brushless Battery     
1 * Hotrc A400 Balance Charger
2 * battery strap 10x170mm
1 * EVA crashproof foam
1 * EVA bottom plate shock absorbing pad
1 * Spare Screw Kit
1 * Sticker
1 * User Manual